If you are a commercial establishment, municipal establishment, institutional establishment, or a community activity please click here to read the section of the recycling ordinance that will explain what your organization needs to do regarding a recycling program.
If you would like to read the entire ordinance, then click here for Ordinance No. 07-10.
 * The Township will be conducting random waste audits throughout the year to ensure commercial recycling compliance *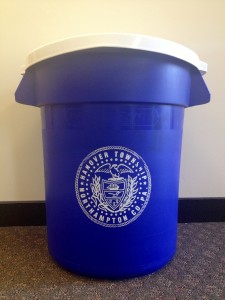 For more information and tips on Office Paper Reduction and Recycling and Steps for Waste Reduction/Recycling Program Planning and Implementation please visit The Professional Recycling of Pennsylvania's  (PROP) Fact Sheet Page or the Department of Pennsylvania's (DEP) Recycling Page.
If you need assistance with your organization's recycling program, or with your Business and Commercial Recycling Report that is submitted to the Township, please contact Christina Thomas at 610-866-1140 ext 223.
Reminder:
If you take your recyclables to the Theis/Cornfeld Recycling Center, please remember to sign in with your Business name and address in order for the Township to receive credit.