**To report a curbside waste or recycling problem, please contact Republic Services at 610.432.7574**
The Township has a Single Hauler Ordinance (No. 08-05) whereby the Township contracts with one private hauler to provide waste and recycling service.  Republic Services is the Township's designated waste hauler.  Bills are sent out in January.

Reminder: When facing your home always put your Yard Waste to the RIGHT of your driveway and Residential Waste & Recycling to the LEFT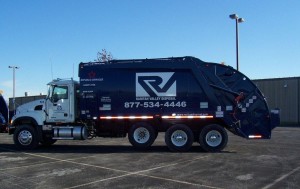 All garbage shall be stored in containers with lids for pick-up.
Containers shall be located so as to be accessible to the collector, ground level and at a point of the curb line of the street or within 10 feet of the public street or alley curb line from which collection is to be made.
Containers shall be placed out for collection not earlier than 6:00 P.M. the day prior to scheduled collection.
Grass clippings may be bagged and put out with your regular trash.
To arrange for pick up of large items please contact Republic Services at 610.432.7574.