YARD WASTE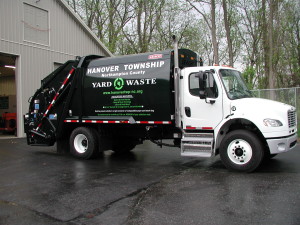 Yard Waste Materials May Can Be Placed in:
open, rigid, waterproof containers
bundled using twine or string; no tape, nylon, rope or cloth.
Containers  must weigh less than 70 pounds.
Yard waste placed in plastic bags will not be collected.

Accepted Material:
 Leaves – loose or in bags (brown paper only)
Small Brush—up to 4 inches in diameter (no longer than 6 ft)
Hedge & Shrub Trimmings
Garden & Plant Residue
Christmas trees (free of ornaments and tinsel)
Not Accepted:
Sod, soil, mulch
Tree Stumps, root balls
Hay, straw, grass clipping
Ornamental Grass, bamboo
Recycle your grass using a mulching mower or by cutting your lawn frequently and leaving the grass on the lawn.
This does not contribute to thatch and provides excellent fertilizer. You can place grass out for the regular trash collection but this practice is not recommended by the Township or the Commonwealth of PA Department of Environmental Protection.
Please see picture below on proper way to place yard waste curbside.