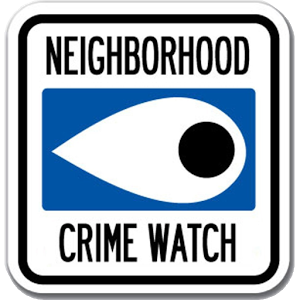 About Hanover Township Crime Watch:
Hanover Township Neighborhood Crime Watch is a program of neighbors helping neighbors prevent Crime. No special equipment, skills, or tasks are required of anyone to participate. The only requirement is that while you are at home you should be alert as to what is going on in your neighborhood. A police officer patrolling the neighborhood may not recognize a stranger in your yard, but your neighbor would.  Each neighbor can effectively watch those homes to each side, the front and the back of his or her own home. Citizens are strongly  encouraged to call 9-1-1 to report illegal or suspicious activities they have witnessed. Citizens are recommended not to confront any suspicious person(s), attempt to apprehend anyone, or jeopardize their own safety in anyway. The Colonial Regional Police Department's continued support and alliance is greatly appreciated.  For without them, this community/police partnership would not be possible.
National Night Out:
Each year the Hanover Township's Crime Watch holds a National Night Out, which corresponds to the national program.  From the official National Night Out website: "The introduction of National Night Out, "America's Night Out Against Crime", in 1984 began an effort to promote involvement in crime prevention activities, police-community partnerships, neighborhood camaraderie and send a message to criminals letting them know that neighborhoods are organized and fighting back. NATW's National Night Out program culminates annually, on the first Tuesday of August."
Helpful Links and Phone Numbers:
If this is an emergency, dial 911 immediately.
You are now able to text 911 in Northampton County and Bethlehem – (http://www.lehighvalleylive.com/breaking-news/index.ssf/2015/03/northampton_county_bethlehem_r.html)
Colonial Regional Police Department's non-emergency – 610.861.4820
The Hanover Township Volunteer Fire Company non-emergency Station 15 – 610.867.2103
Hanover Township Ambulance non-emergency – 610.865.1252
Hanover Township Emergency Management – 610.866.1140
Northampton County 911 Operations Center – http://www.nc911.org/index.html
Northampton County uses Notify Northampton County to immediately contact you during a major crisis or emergency, Click Here to Sign up.