Police, Fire, and EMS
If this is an emergency, dial 911 immediately.
Colonial Regional Police Department's non-emergency – 610.759.2200
The Hanover Township Volunteer Fire Company non-emergency Station 15 – 610.867.2103
Hanover Township Ambulance non-emergency – 610.867.2103
Northampton County uses Notify Northampton County to immediately contact you during a major crisis or emergency, Click Here to Sign up.
Hanover Township Emergency Management
Emergency Management is that function of Township government specifically responsible for coordinating our community's response to major emergencies. The Emergency Management Organization is not a replacement for, or an addition to Police, Fire, Rescue, Public Works, or other response units, but a system for coordinating and managing various municipal, volunteer and private resources to effectively prepare for, respond to and recover from a community crisis.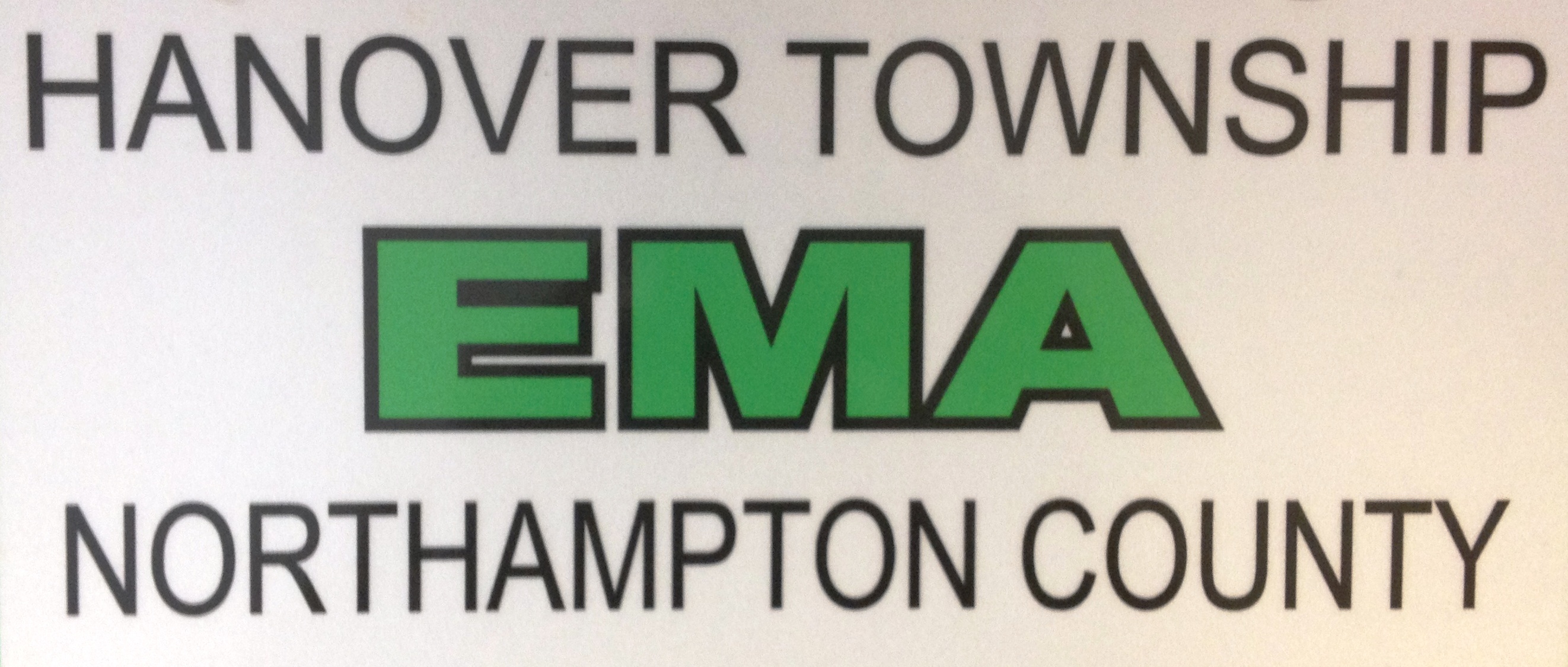 Mission Statement:
 The mission of Hanover Township's Office of Emergency Management is to serve the citizens of the Township through effective planning for natural and man-made disasters. Our goal is to save lives and protect property through the coordination of an integrated emergency management system with all emergency response organizations, support services and volunteers. We will be an advocate for greater community efforts, including educating the general public to mitigate and prepare for potential emergencies. We will support efforts to train and exercise emergency responders in both the public and private sectors. We will manage and coordinate efforts toward a rapid recovery from disasters with an effective disaster assistance program.
It is the governmental policy of Hanover Township to protect lives, property, the environment and the economy during an emergency or disaster. To address these potential threats, the Hanover Township Office of Emergency Management has prepared and maintains an updated comprehensive Emergency Operations Plan. This plan provides the framework upon which Hanover Township prepares for, responds to and recovers from man-made and technological hazards.
Emergency Management Staff:
John J. Finnigan, Jr., Emergency Management Coordinator
Kristopher S. Mattson, Deputy EMC
Vincent G. Milite, Deputy EMC – NIMS Compliance Officer
Joshua Peters, Emergency Management Staff
Fire protection is provided by the Hanover Township Volunteer Fire Company #1 and police protection is handled by the Colonial Regional Police Department.
Web site Links to:
FEDERAL EMERGENCY MANAGEMENT AGENCY – FEMA
http://www.fema.gov
PENNSYLVANIA EMERGENCY MANAGEMENT AGENCY – PEMA
http://www.pema.state.pa.us
PENNSYLVANIA EMERGENCY PREPAREDNESS GUIDE
http://www.portal.state.pa.us/portal/server.pt/document/1309529/emergencypreparednessguide_pdf (PDF Download)
NATIONAL WEATHER SERVICE, MT. HOLLY, NJ
http://www.nws.noaa.gov/er/phi
Northampton County 911 Operations Center
http://www.nc911.org/index.html
Hazard Mitigation Plan – Lehigh and Northampton Counties
http://www.lvpc.org/UntitledFrameset-7.html
Northampton County Emergency Management Notification System:
https://www.notifync.org/index.php?CCheck=1