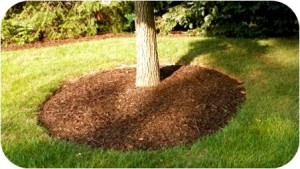 One of the easiest, least expensive, and beneficial things we can do to maintain the long-term health of our landscape trees is provide a nice layer of organic mulch. Mulch materials may include wood chips, bark, leaves, and evergreen needles.
For a nice tutorial on mulching, download the following ISA brochure: PROPER MULCHING TECHNIQUES
What are some of the benefits of organic mulch? A 2 – 4 inch layer of organic mulch:
Maintains soil moisture by reducing evaporation
Reduces large fluctuations in soil temperature, keeping the soil cooler in summer and warmer in winter
Reduces competition from grass and weeds
Improves soil aeration, structure, and fertility, providing better environmental conditions for beneficial microorganisms, including mycorrhizal fungi
Helps prevent lawnmower and weed whip damage to the trunk.
Add a layer of organic mulch within the tree's drip line (edge of canopy) no more than 4 inches deep. A deeper layer of mulch can lead to a variety of physiological problems associated with reduced gas exchange. Also, thick layers of mulch provide excellent hiding places for voles that can damage trees.
Periodically break up the top layer of mulch so it does not form a hard crust, which causes water to run off the crust rather than soak into the mulch.
It's important to leave a 3 – 4 inch space between the mulch and the trunk. If mulch is piled up against trunk, stem girdling roots, decay fungi, or insect pests may cause serious damage to the tree.
Remember: No Mulch Volcanoes!