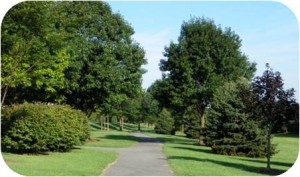 Like the residents of Hanover Township, more than 80 percent of Americans now live in urbanized areas. Several decades of multidisciplinary scientific research is confirming that well-designed and maintained urban forests are vital components of the urban environment.
The trees that make up our urban forests provide us with many ecological, economic, aesthetic, and psychological benefits. For example:
Trees save energy by shading our homes and paved surfaces
 ·         Mature deciduous trees located on the east, south and west sides of our homes can significantly reduce summer air conditioning use, thereby conserving energy during peak demand periods and resulting in less carbon production by power plants. After leaf drop in autumn, these same trees allow solar heating of our homes, reducing winter energy use.
Evergreen trees located on the northwest side of our homes can function as effective windbreaks, reducing winter heating costs.
The urban forest cools cities and towns, helping to moderate the urban heat island effect caused by the absorption and storage of the sun's thermal energy in urban infrastructure (steel, concrete, asphalt). Urban heat islands can be 3 – 10 degrees warmer than the rural countryside.
Trees improve air quality and sequester carbon
 ·         Air pollution is a serious public health threat linked to asthma, migraines, respiratory and heart disease, and cancer. A dense canopy of healthy trees can reduce the effects of air pollution associated with increasing urban temperatures.
Trees trap and filter particulate air pollutants like dust, ash, pollen, and smoke.
Trees directly absorb atmospheric pollutants, including ozone (O3), carbon monoxide (CO), and sulfur dioxide (SO2).
During photosynthesis, trees absorb the greenhouse gas carbon dioxide (CO2) – in turn, photosynthesis produces oxygen (O2) for us and other living organisms.
Trees can help modify the greenhouse effect by shading and cooling our cities and towns, reducing energy use, absorbing atmospheric CO2, and storing excess carbon in wood.
 Trees improve water quality and reduce flooding events
 ·         The extensive and intertwined root systems of trees help stabilize the soil, reducing erosion and minimizing sediment concentrations in our lakes and streams.
Tree roots also filter and purify groundwater by directly absorbing nutrients and chemical pollutants.
In conjunction with extensive root systems, a dense canopy of trees and shrubs intercepts rainfall, reducing its velocity. This effect greatly reduces the rate and volume of stormwater runoff, decreasing localized flooding events, and reducing the need to build additional storm-water infrastructure. Tree roots also help absorb standing rainwater.
For example, Dayton, Ohio's urban forest covers 22 percent of the city and contributed to a 7% reduction in stormwater runoff (Sanders, 1986).
Also, in an effort to reduce stormwater runoff, improve water quality, and create jobs, the Philadelphia Water Department (PWD) made a 25-year, $1.2 billion commitment to develop sustainable green infrastructure projects to address these issues rather than simply building new tunnels, pipes, and additional storage facilities. In 2010, PWD launched the innovative Green City, Clean Waters program that includes the use of stormwater tree trenches and planters, rain gardens, stormwater wetlands, permeable (porous) paving, and green roofs. Please visit the following website for more information about these projects: Green Stormwater Infrastructure Project Map
National Geographic News article:
Philadelphia Cleans Up Storm Water with Innovative Program 
Trees reduce crime, improve psychological health, and strengthen our communities
 ·         Urban residents living in greener neighborhoods with trees and grass reported less fear, fewer violent and property crimes (Kuo and Sullivan, 2001a), and experienced lower levels of mental fatigue, aggression, and violence than residents living in stark, non-vegetated urban neighborhoods (Kuo and Sullivan, 2001b).
When their rooms provided a view of more natural surroundings, hospital patients recovered more quickly with fewer medical complications than patients with views of typical urban infrastructure (Ulrich, 1984).
Urban employees prefer greener workplaces that are located near more natural surroundings with trees and walking paths – this preference holds even if the landscaping is less maintained and appears more like a native prairie (Kaplan, 2007). Also, office workers with a view of nature reported greater professional and personal satisfaction, less frustration, and better overall health than co-workers with no view of nature (Wolf, 1998).
An urban park shaded by a dense canopy of trees provides much needed relief from summer heat. Urban parks are invaluable for providing space for family gatherings, physical fitness, recreational activities, and peace and quiet.
Trees are often planted as living memorials to friends, colleagues and loved ones.
 Trees increase property values and economic activity  
 ·         Well-landscaped properties with mature trees can add 5-15% to property values.
Tree-lined commercial districts generally attract more shoppers and tourists.
Trees increase urban biodiversity by providing valuable wildlife habitat and corridors
Trees act as effective wind breaks, screen unsightly urban infrastructure, reduce glare, reduce noise, and provide privacy
Quite simply, the trees, parks, and natural area preserves that make up the green infrastructure in our cities and towns contribute significantly to the general health and well-being of urban residents.
References
Kaplan, R. 2007. Employees' reactions to nearby nature at their workplace: The wild and the tame. Landscape and Urban Planning, 82: 17-24.
Kuo, F. E. and W. C. Sullivan. 2001a. Environment and crime in the inner city: Does vegetation reduce crime? Environment and Behavior, 33(3): 343-367.
Kuo, F. E. and W. C. Sullivan. 2001b. Aggression and violence in the inner city: Effects of environment via mental fatigue. Environment and Behavior, 33(4): 543-571.
Sanders, R. 1986. Urban vegetation impacts on the hydrology of Dayton, Ohio. Urban Ecology, 9: 361-376.
Ulrich, R. S. 1984. View through a window may influence recovery from surgery. Science, 224: 420-421.
Wolf, K. L. 1998. Urban Nature Benefits: Psycho-Social Dimensions of People and Plants. Fact Sheet #1. Center for Urban Horticulture, University of Washington, Seattle. 2 pp.